Human Resources Information Solutions (RS-HRIS)-
Time & Attendance Management System
RS-BPL HRIS is a web-based time and attendance management system that records and manage the data of employees. It generates reports of various types to take appropriate actions. RS-BPL HRIS is highly configurable with an intuitive interface, which supports all major browsers on desktops as well as mobile devices.
How can RS-BPL's Human Resource Information System RSHRIS help business?
RS-BPL's Human Resource Information System is a cutting-edge, integrated solution for attendance management that will plug the leaks and check fraud at any stage. It helps organizations track employees across different workstations from a centralized system. The innovative features of this software not only help curb wastage, they also help increase productivity.
The manual attendance process is broken. The approach to time and attendance reporting is outdated and inefficient, not to mention the additional cost of human error or fraudulent timekeeping. Automating the process with a cloud-based software solution can lead to savings in time and money by automating the data collection process, reducing fraud, and eliminating labour-intensive data entry tasks.
A robust attendance system will help your staff arrive on time and ready to work. It will also help you keep track of labour hours, reduce payroll costs, identify theft, reduce payroll errors and increase company profits.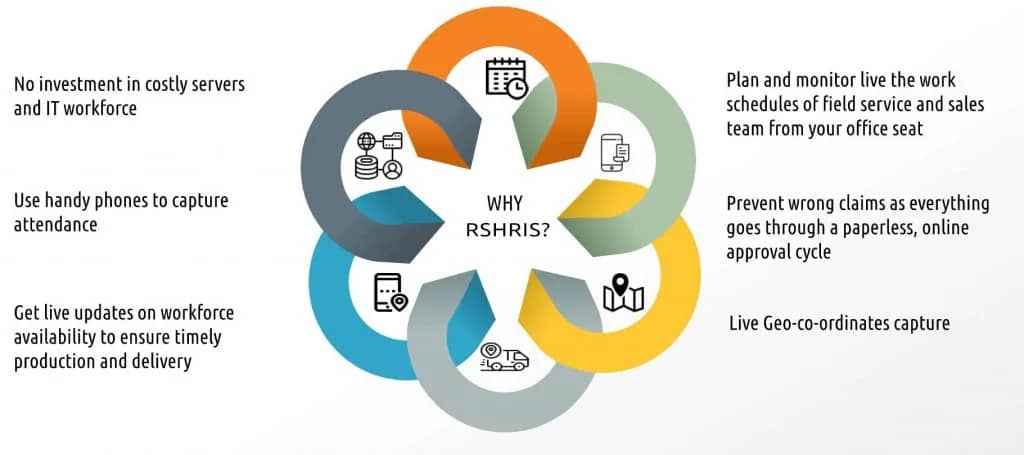 Features of RSHRIS - Online Time and Attendance Management System
Log-in on Cloud and Begin your HR work
Live Reporting at different managerial levels
Unified, centralized application for the whole group
Multi-user, based on definable roles and permissions.
Can define a hierarchy for streamlining online approval and reporting system
Allows uploading weekly schedules for field staff
Integra table with any Third Party application
Our devices connect to the Cloud software directly
Devices Auto-push LIVE punches to data to Cloud Server
Can be used with Biometric devices and Mobile phones
ATTENDANCE MANAGEMENT SYSTEM IN MOBILE APP : CATS-MOBILE